When you're a parent, you worry about your child every second of the day. You want to make sure they're safe and sound, no matter where they are in the house.
That's why a baby monitor is such an essential piece of parenting gear – it gives you peace of mind, knowing that you can keep tabs on your little one even when you're not right there with them.
There's no doubt that a baby monitor is a must-have for any parent with a newborn.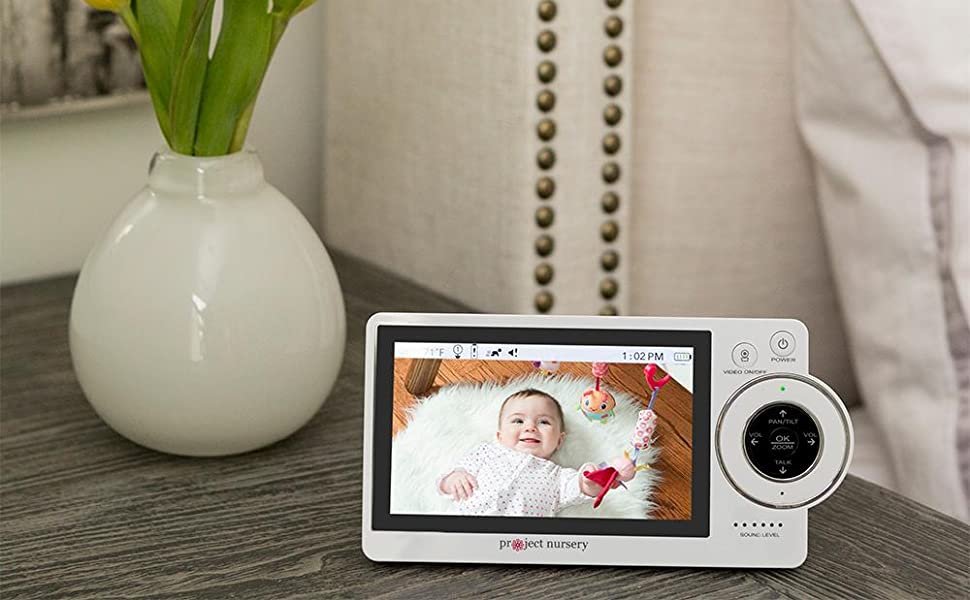 Here's 8 reasons why you should buy this Baby Monitor
Has a Dual Connection: 
The Project Nursery PnmDual is WiFi connected for remote viewing on your iOS and Android devices using the Project Nursery App, which can be downloaded from either the Apple Store or Google Play.
With it, you'll have access to live video of your baby in their crib no matter where you are in the house.
Excellent Battery Life
This baby monitor has a rechargeable 12.7 cm high-definition touchscreen handheld monitor with an 8-hour battery life and also comes equipped to communicate wirelessly via WiFi remote pan/tilt /zoom HD 720P camera that lasts up to 2 hours.
Ability to Record
The PndDual has the ability to record video and snap photos directly to your smart device; no cloud storage or app fees.
So, if you find your baby making a silly face and you want to share it, snap the photo and send it to your friends or family for a quick laugh.
Has Password Protection
With the baby monitor's password protection option, you can rest assured that your little one will be safe from prying eyes. Allowing for multiple camera views on each device makes it easier than ever before to keep an eye out.

Temperature Sensor and Infrared Night Vision
The nursery monitor has a temperature sensor and push notifications for sound, motion and temperature alerts to ensure your baby is in the best possible sleeping environment where it's not too cold or too warm.
Its also equipped with an infrared night vision camera that allows you to see what's going on at all times, even in the dark.
Has Two-way Communication and Sound Capabilities
Rockabye Baby is the perfect solution for any parent who wants to soothe their baby while they sleep. The interactive baby monitor can play Rockabyes, white noise and natural sounds, which will help your little one fall asleep easier.
WiFi Not Needed
The WiFi router is required only if you need to view it remotely. Otherwise, the baby monitor will work paired with a camera or monitor within your home, and this way, we can see what's happening in any room of the house.
Easy to Use and Set up
This baby monitor is really easy to set up and use; all it requires is a cable port and a spot to put the baby camera.
We know that a good night's sleep is vital for parents and their little ones. That's why we made sure to include all of the best features of this baby monitor.
Your baby can be lulled into slumber by soothing music or crisp white noise from this high-quality monitor with two-way communication capabilities while keeping an easy to use design.
When it comes to monitoring your child, you want a baby monitor with both WiFi connectivity and good battery life. The Project Nursery Baby Monitor is the perfect option for parents because it has dual connection options and includes a rechargeable high definition touchscreen handheld monitor with a pan/tilt/zoom HD 720P camera.
In addition, this device offers features such as night vision, temperature sensor, two way talk back feature and more – all at an affordable price point.
And with the Nursery baby monitor, you have all the latest features fitted in this nifty device, which in my opinion is one of the best baby monitors.
You should consider buying the Baby Monitor Project Nursery Pnmdual5 5″. We outlined the reasons why this baby monitor is a great choice, and why it stands out from other camera monitoring systems.
Interested in buying this baby monitor, we currently have it on sale for only $88.88 normally retailed at $248.88
Check out this
baby monitor
here
 or call us on
(02) 9863 0668 for any further questions